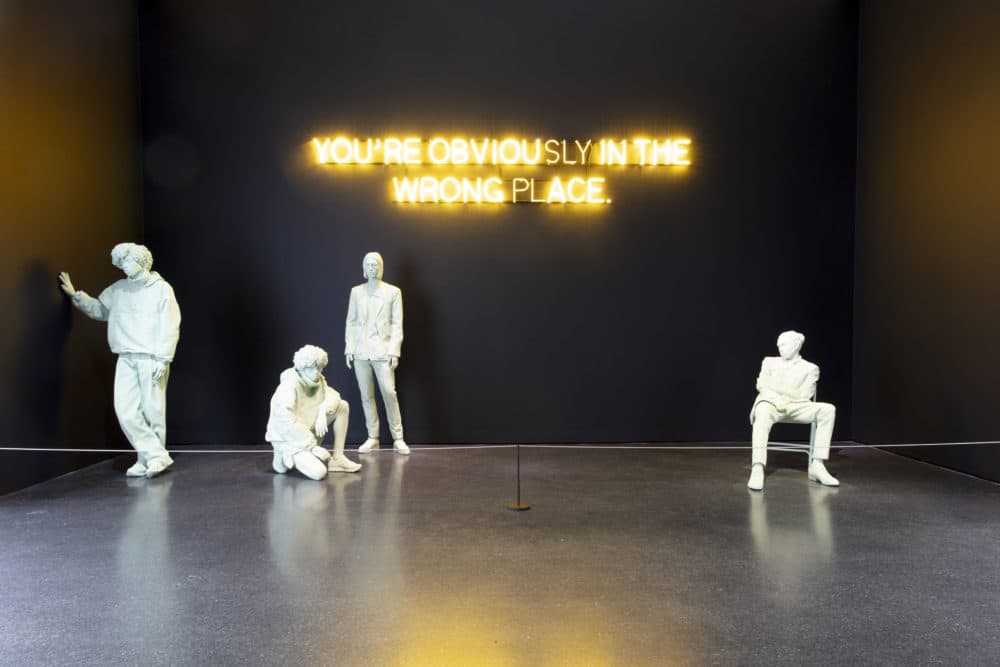 These words, in bold black and electric green, are displayed at the entrance to the new "Figures of Speech" exhibition at the ICA. The phrase is designer Virgil Abloh's abbreviated way of describing two types of people on the planet.
A "purist," in Abloh's mind, is someone who has so much knowledge that he erects high walls around art.
"There is a feeling that you don't understand, or that you don't belong," he said during a press preview of the Boston series. "It's kind of what makes the wall higher."
Purists want to keep artistic practices and ideas from mixing with each other and are eager to hand in pass / fail grades on what exactly constitutes "art."
"Tourists", on the other hand, may not adhere to the dictates of the art world, but are ripe for exploration and experimentation. A little mess and bleeding is welcome.
And it is in this latter category that Abloh's 20-year retrospective, presented at the ICA through September 26, firmly resides. His job, he said, "exists to ride this pop culture seaplane, to kind of spread ideas and empower people. That's the metric.
An architect by training, Abloh has climbed the walls of haute couture, design and music. At 40, he was artistic director in the elitist and rarefied offices of the men's division of Louis Vuitton. He also runs Off-White, his own high-priced luxury streetwear clothing brand based in Milan, whose name cleverly recalls his position as a black man in a predominantly white fashion world.
He has partnered with brands like IKEA and Nike to create ironic and subversive limited edition designs for shopping bags, chairs and sneakers, and has created sculptures and multimedia installations for art museums. He was involved in the design of album covers and was, at one point, artistic director of Kanye West's Donda Academy. He's also designed for other musicians, including covers for the late rapper Pop Smoke, Jay-Z, Lil Uzi Vert, and Westside Gunn. And when he's not making album covers for others, he's DJing – everywhere from the Coachella Art and Music Festival in California to nightclubs in Ibiza and Las Vegas. His wide-ranging career fuses art, commerce, advertising and celebrity culture, earning him comparisons to another artist who has casually traveled to this space, Andy Warhol.
In appearance, however, Abloh couldn't be more contrasted with the now deceased Warhol. The son of Ghanaian immigrants, Abloh grew up in Rockford, Illinois, immersed in skate and hip-hop culture. He first attended engineering school to please his parents, but eventually obtained a graduate degree in architecture from the Illinois Institute of Technology. Not content with confining himself to the narrow world of architecture, he began to apply his architectural eye to graphics and fashion.
"I'm kind of allergic to the discipline," he said.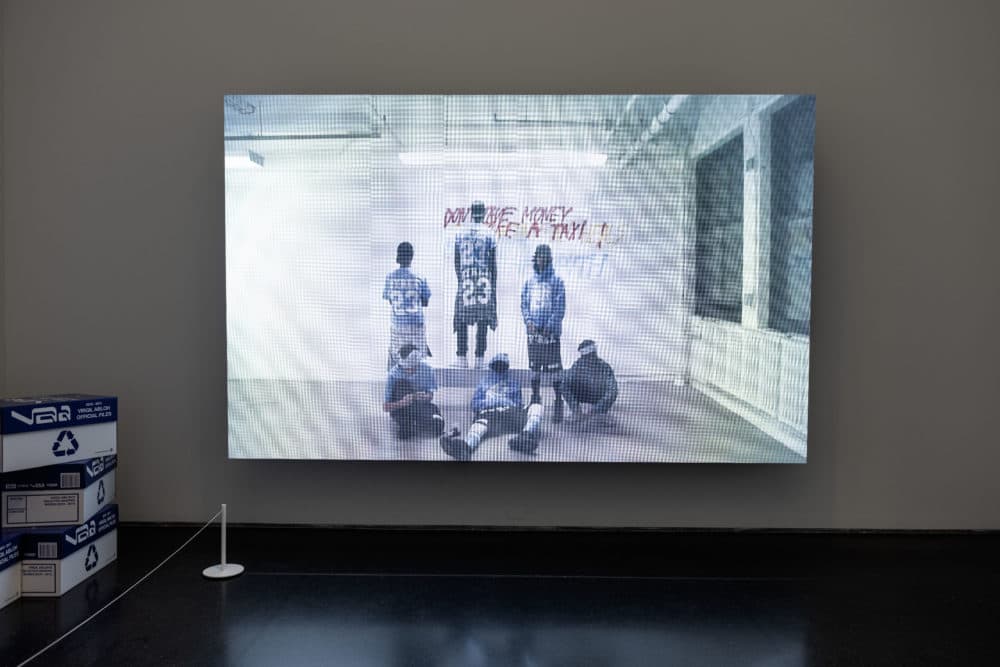 In fact, Abloh made a career of being studied "unruly", mixing, matching, and mixing genres for people like him.
For Abloh, pop culture is the perfect vehicle for digging deeper into the complex issues surrounding race, class, and gender. Nothing is to be taken for granted, which we quickly understand as Abloh's credo as soon as we enter the ICA where we are faced with a large flag embossed with the phrase, in quotes, "Question Everything."
And Abloh does it, combing through and combining a world of images, impressions, and ideas as easily as a Silicon Valley search engine. Mixing together very disparate sources including classical architecture, skateboard ramps, Hollywood movie lines, and the graffiti you see on that building across the street, "Figures of Speech" is a revealing mashup steeped in irony, fantasy and seriousness at the same time.
We immediately meet "A Team With No Sport" (2012), a video that Abloh made to promote his Pyrex Vision brand. In the video, the youth are wearing sweatshirts and t-shirts that Abloh printed with the words "Pyrex 23". The children who wear them are black and brown. Pyrex refers to glassware used in home drug labs and 23 refers to Abloh's basketball idol Michael Jordan (who wore number 23). The reference is skewed and could be a sarcastic way to approach the idea that some people think the only two ways out of the ghetto for black children are to sell drugs or play basketball.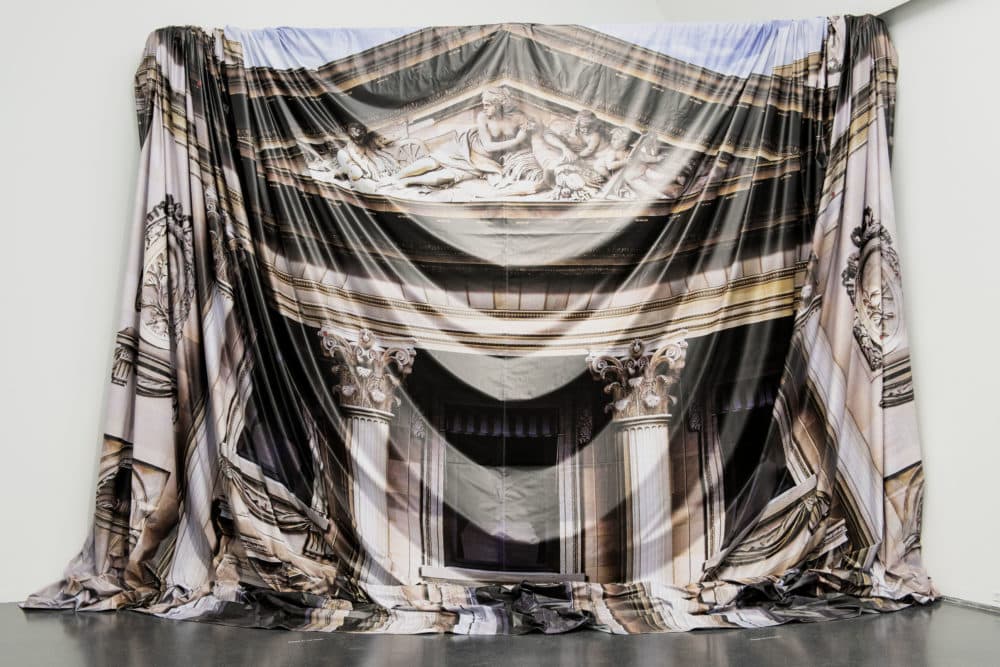 In this same gallery we see "Frontin '" (2021), created for this exhibition, which features a half-moon skating ramp littered with red plastic beer cups and labeled with the words "CloneS" and "international business. machines ". Behind the skate ramp is "False Façade" (2016-2019), a printed drape of a classic pillared building suggesting the heights of Western culture. It's a juxtaposition of 'high' and 'low', illustrating Abloh's happy mix of improbable influences.
"It thrives on culture," CIA curator Ruth Erickson said in an interview a few weeks before the press preview. She helped set up the Boston iteration of a show that was originally set up and presented by the Museum of Contemporary Art Chicago. "He sees what's there. He puts his finger on the pulse and he puts them together like a kind of collision. And he lets us read it.
Another artwork created especially for the Boston show, "Fashion Wall," is a huge 60-foot photo collage featuring a street scene in Accra, Ghana, combined with cutouts of photos of models, all dressed in white, wearing Abloh fashion in a sort of archived timeline of her work. In a gallery dedicated to Abloh's music, we see "In His Image (A Tribute to Yeezus)" (2019), a 60 inch acrylic sculpture of the minimal transparent jewelry box that Abloh designed for the album. Kanye West's 2013 "Yeezus", as well as a two-minute silent video titled "In Other Words" (2017) that Abloh sometimes uses as the backdrop to his DJ performances. The phrase featured on the video: "Objects in the mirror are closer than they appear". Make it whatever you choose.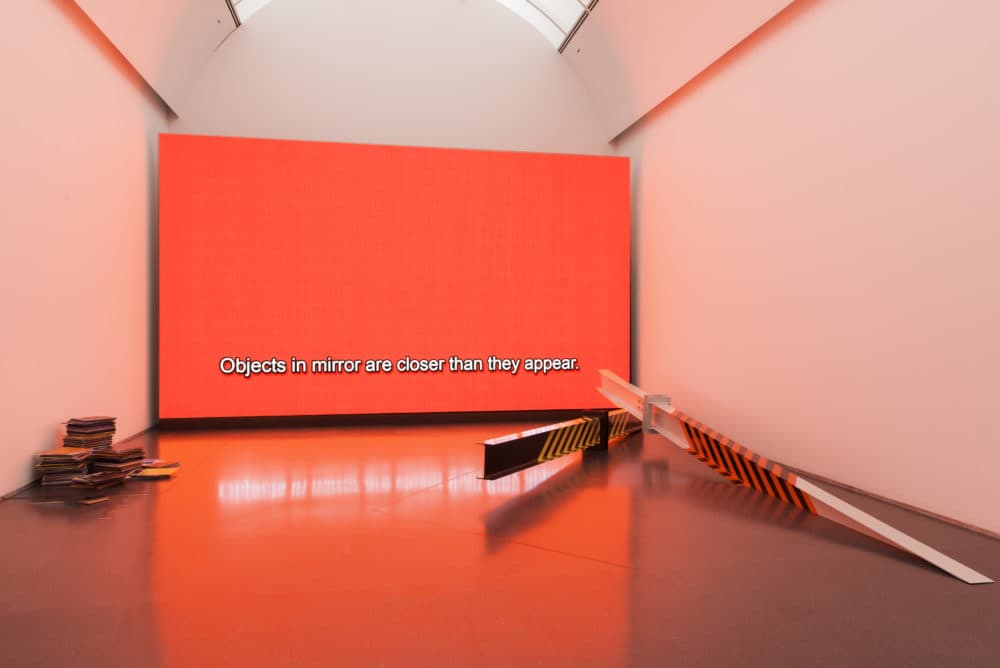 In a room titled "The Black Gaze", Abloh presents "As Impossible", a folded flat ladder fashioned from blue foam. Although a ladder should be a means of climbing, this ladder is so decidedly fragile that it would crumble into pieces if used. Also in this gallery is Abloh's "You're Obviously in the Wrong Place" (2017), a simple sentence written in bright yellow neon on a black wall, from the movie "Pretty Woman", in which the street character by Julia Roberts is summarily kicked out of a Tony store in Beverly Hills. The line will resonate with black visitors, many of whom have themselves been followed to stores by suspicious traders who assume they don't belong.
In the final gallery of the Abloh design exhibition, we see "Dorm Room" (2019), a room incorporating designs that Abloh created for IKEA. The rugs are witty and ironic and one is actually a giant receipt for an IKEA rug. His "Toolbox" (2019-2020), seems to be a Louis Vuitton mutant suitcase crossed with a boom box from the 1980s, and pays tribute to the many threads of Abloh's career integrating street culture, music and fashion. .
The wide variety of items on display, from fashion to furniture to DJ flyers, will make Abloh an easy target for purists, who can smell the easy and casual abandonment of Abloh's borrowing and branding.
Abloh, however, made it clear where he was standing.
"My job is not for the establishment," he said. "It's made for a 14-year-old to come in here and see something they identify with. And as the light bulb goes out in their head and they're like, I got it.
---
"Figures of Speech" by Virgil Abloh is on view at the ICA from July 3 to September 3. 26.